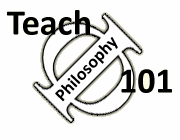 Free resources for
philosophy teachers!
"One of the most comprehensive, well-researched, and accessible guides for teachers that I have ever seen." James Lang, Chronicle of Higher Education (read full review of TΦ101)
Unless you have been living in a cave for the last ten years, you know all about YouTube, which is a video website, created in 2005. It has a vast number of video clips, many of which are hilariously funny, and an even greater number of which are incredibly mindless and stupid. Surprisingly, there is a great deal of material, humorous and otherwise, that might be useful in philosophy classes and, indeed, you could easily upload your own materials (perhaps a mini-lecture).
Using Existing You Tube Material. Below we list just a few YouTube videos that might be useful, but if you have others that you have found useful, please send us the link, and a sentence or two about why you found it useful. Probably the simplest way to proceed is to use YouTube's powerful search engine. If you enter the name of a contemporary philosopher, for example, you may well find a clip of an interview. When you bring up that clip, YouTube will also prompt you with related clips. Here are just a few examples to get you started.
In other words, if you want your students to put a face with a name, and get a feel for who these authors are, you may find something of use on YouTube.
Creating your own material. You might also consider putting your own material on YouTube. Philosopher Michael LaBossiere (FAMU) has done this with several of his introductory courses. To see why this might be useful, imagine this scenario: you have assigned your students to read a difficult text for next Monday, and you would like to give them a brief lecture about the material before they read it. You could make up a short video clip of yourself giving the information, and instruct them to watch it before they read the assignment. Of course, your material would be open to anyone who wanted to see it, but it is unlikely that very many people would find it, unless, of course, you are a lot funnier than you think you are.
Author: John Immerwahr
Update: January 2016 (E. Tarver); April 2020