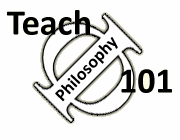 Free resources for
philosophy teachers!
"One of the most comprehensive, well-researched, and accessible guides for teachers that I have ever seen." James Lang, Chronicle of Higher Education (read full review of TΦ101)
Samples of syllabi and course plans from various sources. If you have a syllabus you would like us to consider for inclusion, please send it to us.
Historical Text-Based Syllabi
Detailed syllabus using classical material plus feminism and existentialism. Dera Sipe, Villanova University. An elegant web-based syllabus: Paul Weithman, Notre Dame University.

Building a course around Plato. Jack Russell Weinstein (University of North Dakota) uses three different notions of dialogue in Plato (the literal conversations, Plato's dialgoue with other philosophers, and his dialogue with the students) as a framework for readings and papers in an intro course. "Three Conversations: Teaching Plato in an Introduction to Philosophy Course." Teaching Philosophy. 26.1 (2003): 3-20.

Russell Marcus of Hamilton College has a very attractive syllabus, note especially the integration of on-line study guides and lectures notes, and great use of supplementary web materials.

Syllabus with interesting blending of classical sources with contemporary continental and post-modern sources. John Carvalho, Villanova University

Eve Browning at the University of Texas-San Antonio assigns six texts (Plato, Marcus Aurelius, Chaung-Tzu, Machiavelli, Descartes, and Tolstoy). For each writer she assigns a project specifically based on the style and thinking of the writer (so for Plato she assigns a dialogue, for Descartes as meditation, etc.); none of the projects is a traditional philosophy paper, all are very creative.

Syllabus for Texas-sized intro course with over 300 students; note over 1,000 short answer questions and use of clickers. Stephen Daniel, Texas A&M University.
Problem- or Project-Based Syllabi
Some researchers suggest that instructors should design courses around a project, rather than around texts. Michael Strawser (University of Central Florida) assigned no texts whatsoever and asked his students to work together over the semester to create their own "introductory textbook in philosophy, complete with reading selections, commentaries, study questions, and glossary" (117). See his "Creating Philosophy: Using a Cooperative Learning Approach in the Classroom," Teaching Philosophy 28.2 (2005): 115-124. Nancy Stanlick uses a somewhat similar approach for individual papers.

Dan Werner from SUNY New Paltz has a syllabus for a course on The Meaning of Life

Philosophy of language syllabus, incorporating issues concerning gender, ethnicity, and the environment, by Jenny Earlean, Sienna College.

Interdisciplinary Introduction to Philosophy, based on the famous 1924 Leopold and Loeb case, using three films, two novels, a court transcript, and conventional texts. Extremely creative and provacative. Andrew P. Mills (Otterbein College). Teaching Philosophy. 28:1 (2005) 17-29.
Web-Based Syllabi
Please see here for further reading: