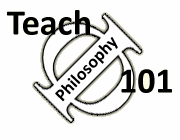 Free resources for
philosophy teachers!
"One of the most comprehensive, well-researched, and accessible guides for teachers that I have ever seen." James Lang, Chronicle of Higher Education (read full review of TΦ101)
SOTL and other Generalized Teaching Resources
The Scholarship of Teaching and Learning (SOTL) is a growing field that is perhaps less well-known to philosophers than faculty from some other disciplines. In this section, we offer some pointers for getting started in this area, and some general resources for thinking about teaching.