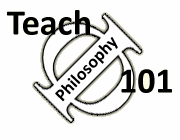 Free resources for
philosophy teachers!
"One of the most comprehensive, well-researched, and accessible guides for teachers that I have ever seen." James Lang, Chronicle of Higher Education (read full review of TΦ101)
Your Dean and your Provost are hearing a lot about assessments from the accrediting agencies and from everyone else, and sooner or later you'll hear about it too. We say that our goal is educating students, and -- in today's consumer-driven world -- the people who pay our salaries want to know if they are getting their money's worth.
TΦ101 completely believes that the discussion of assessments has tended to conflate two completely different concerns. On the one hand, TΦ101 entirely agrees that in planning our courses we should have clear learning objectives for our students and some way of determining whether those objectives have been met. Instead of asking, "What do I want to teach?" we should ask, "What changes do I want to foster in my students, what will I have to do to create those changes, and how will I know if those changes have occurred?"
All of this is quite different, however, from meeting the demand that we be able to quantify these outcomes, especially if this means that we need some sort of standardized testing. As TΦ101 develops we hope to be able to provide some more thoughts on this topic, and please send us your reflections. Here are a few resources:
Author: John Immerwahr
Update: 15 Dec. 2015 (E. Tarver)