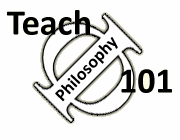 Free resources for
philosophy teachers!
"One of the most comprehensive, well-researched, and accessible guides for teachers that I have ever seen." James Lang, Chronicle of Higher Education (read full review of TΦ101)
Our students often respond to visual images (especially from popular culture), but there are lots of classical artistic images that can be useful as well.
Update: 17 Dec. 2015 (E. Tarver)