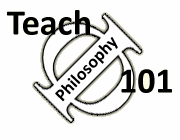 Free resources for
philosophy teachers!
"One of the most comprehensive, well-researched, and accessible guides for teachers that I have ever seen." James Lang, Chronicle of Higher Education (read full review of TΦ101)
One of the biggest challenges that we face is a gap between what we are trying to accomplish in our classes and what our students seem to need.
Author: John Immerwahr
Update: March 12, 2008