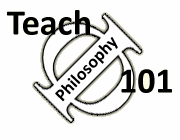 Free resources for
philosophy teachers!
"One of the most comprehensive, well-researched, and accessible guides for teachers that I have ever seen." James Lang, Chronicle of Higher Education (read full review of TΦ101)
In this section, we focus primarily on in-class group work, rather than projects that are done outside of class. Please send us your own examples. Feel free to adapt any of these, but for your own protection, review our copyright and permissions section.