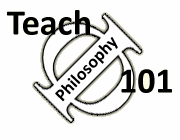 Free resources for
philosophy teachers!
"One of the most comprehensive, well-researched, and accessible guides for teachers that I have ever seen." James Lang, Chronicle of Higher Education (read full review of TΦ101)
How to Contribute to TΦ101
TΦ101 was originally intended to be a clearinghouse of information from many sources and we encouraged others in the field to send us comments, reactions, and especially materials and approaches that have been successful in your own classes. Since 2013, however, the staff of TP101 has been diverted to other projects. We are not actively soliciting new material and we cannot promise to post things that we receive.
That said, if you have something of vital interest, you are welcome to send it to us. There are a few guidelines for submission:
All materials will be covered under the Attribution-Share Alike License. This license is similar to open-source software licenses. It allows others to copy, share, remix, tweak, and build upon your work (even for commercial purposes), as long as they credit the author and license their new creations under the identical terms. See the license itself for precise details.

We will list your name as the author of the material and your institutional affiliation. If you wish, we can also include and a link to your e-mail address and your homepage.

We regard inclusion on TΦ101 as a form of publication and service to the community, so we encourage authors whose work is published to include this on their resumes and formal evaluation materials.


Author: John Immerwahr
Update: June 12, 2013; December 2019