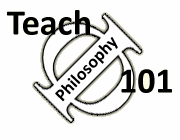 Free resources for
philosophy teachers!
"One of the most comprehensive, well-researched, and accessible guides for teachers that I have ever seen." James Lang, Chronicle of Higher Education (read full review of TΦ101)
The mission of TeachPhilosophy101 is to enhance undergraduate student learning in introductory philosophy courses by providing free, user-friendly strategies and resources to the academic community. TΦ101 follows these guidelines:
TΦ101 focuses primarily on enhancing Introduction to Philosophy courses, but also serves as a resource to all who are interested in teaching and learning in higher education.

TΦ101 is provided as a free resource to the academic community and carries no advertising.

TΦ101 provides open-source materials, available for copying and use free of charge under the conditions specified by the license. All materials on this site are provided on an open source license.

TΦ101 seeks contributed material from anyone in the field who has a sincere interest in helping students learn philosophy (decisions about what to post on TΦ101 are the sole responsibility of the editor).
TΦ101 was initially developed by John Immerwahr, with the generous support of a sabbatical leave from Villanova University. Erin Tarver at Emory University edited from 2012-2018. TΦ101 is now edited by Emily Esch at the College of Saint Benedict and Saint John's University . This new site was designed by the Philosophy Documentation Center and it is sponsored by PDC and the College of Saint Benedict and Saint John's University. Update: June 16, 2012; July 2019