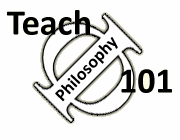 Free resources for
philosophy teachers!
"One of the most comprehensive, well-researched, and accessible guides for teachers that I have ever seen." James Lang, Chronicle of Higher Education (read full review of TΦ101)
Here are some examples of tests, but please send us materials that you think would be helpful to your colleagues.
​​
​​
​​
Update: October 11, 2015 (E. Tarver)