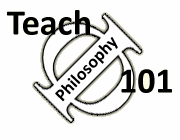 Free resources for
philosophy teachers!
"One of the most comprehensive, well-researched, and accessible guides for teachers that I have ever seen." James Lang, Chronicle of Higher Education (read full review of TΦ101)
Welcome to TeachPhilosophy101 (TΦ101)
This site presents strategies and resources for faculty members and graduate assistants who teach philosophy courses, especially at the introductory level. It also includes material of interest to college faculty generally. The mission of TΦ101 is to provide free, user-friendly resources to the academic community. All materials are provided on an open source license and you may print as many copies as you wish.
Note from our Founding Editor: John Immerwahr, Villanova University
"Now that I am retiring from Villanova University, the Philosophy Documentation Center has assumed responsibility for the continuing operation of TeachPhilosophy101. PDC publishes the journals Teaching Philosophy and Teaching Ethics, and produces other teaching-related publications in cooperation with the American Association of Philosophy Teachers and the Philosophy Learning and Teaching Organization - it's a perfect match."
Introducing our New Editor: Erin C. Tarver, Oxford College of Emory University
Prof. Erin C. Tarver is the new editor of TΦ101. She brings a proven commitment to philosophy teaching and solid technical skills to TΦ101, and she will be working with PDC to make technical improvements to the site. Her work on the project will be supported by the Philosophy Documentation Center and Oxford College of Emory University.